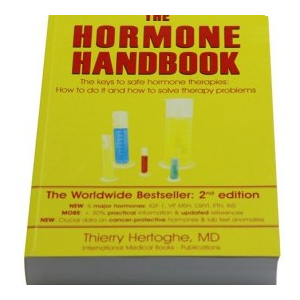 Hormone Handbook – V2 – Thierry Hertoghe MD (833 Page Book)
$369.99
The keys to safe hormone therapies: How to do it and how to solve hormone problems
The hormone handbook: Teaches physicians how to effectively correct hormone deficiencies that range from mild and partial insufficiencies to severe or total lacks of hormone. It identifies and provides solutions to the various problems that may occur in the course of therapy. It is probably the best quick guide on the practical use of hormone treatments.
Out of stock
Description
The famous internationally acclaimed bestseller on  practical hormone therapy for physicians—a must for everyspecialist.
This international practical hormone therapy bestseller for physicians reviews in detail the 18 most important hormone therapies. The second half of the book contains extensive lists of scientific references for the application of each hormone therapy for mind, body, disease and lifespan, including references on the major controversies.
A valuable tool  for physicians willing to:
discover the best methods and products to treat hormone deficiencies.
solve problems that may occur during hormone treatment.
find the best lists of references to justify the use of these therapies or to gain control in scientific controversies and debates.
obtain medical board justification for the use of each of these hormone therapies.